We compiled some of our favorite young adult books from this year. Whether you love to read or need something to do this winter break, this list is perfect for you!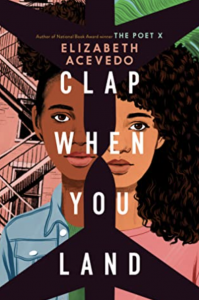 Clap When You Land
by Elizabeth Acevedo
In a novel-in-verse that brims with grief and love, National Book Award-winning and New York Times bestselling author Elizabeth Acevedo writes about the devastation of loss, the difficulty of forgiveness, and the bittersweet bonds that shape our lives.
Camino Rios lives for the summers when her father visits her in the Dominican Republic. But this time, on the day when his plane is supposed to land, Camino arrives at the airport to see crowds of crying people…
In New York City, Yahaira Rios is called to the principal's office, where her mother is waiting to tell her that her father, her hero, has died in a plane crash. Separated by distance—and Papi's secrets—the two girls are forced to face a new reality in which their father is dead and their lives are forever altered. And then, when it seems like they've lost everything of their father, they learn of each other
Yes No Maybe So
by Becky Albertalli, Aisha Saeed
YES
Jamie Goldberg is cool with volunteering for his local state senate candidate—as long as he's behind the scenes. When it comes to speaking to strangers (or, let's face it, speaking at all to almost anyone), Jamie's a choke artist. There's no way he'd ever knock on doors to ask people for their votes…until he meets Maya.
NO
Maya Rehman's having the worst Ramadan ever. Her best friend is too busy to hang out, her summer trip is canceled, and now her parents are separating. Why her mother thinks the solution to her problems is political canvassing—with some awkward dude she hardly knows—is beyond her.
MAYBE SO
Going door to door isn't exactly glamorous, but maybe it's not the worst thing in the world. After all, the polls are getting closer—and so are Maya and Jamie. Mastering local activism is one thing. Navigating the cross-cultural romance of the century is another thing entirely.
Girl, Serpent, Thorn
by Melissa Bashardoust
There was and there was not, as all stories begin, a princess cursed to be poisonous to the touch. But for Soraya, who has lived her life hidden away, apart from her family, safe only in her gardens, it's not just a story.
As the day of her twin brother's wedding approaches, Soraya must decide if she's willing to step outside of the shadows for the first time. Below in the dungeon is a demon who holds knowledge that she craves, the answer to her freedom. And above is a young man who isn't afraid of her, whose eyes linger not with fear, but with an understanding of who she is beneath the poison.
Soraya thought she knew her place in the world, but when her choices lead to consequences she never imagined, she begins to question who she is and who she is becoming…human or demon. Princess or monster.
A Song of Wraiths and Ruin
by Roseanne A. Brown
For Malik, the Solstasia festival is a chance to escape his war-stricken home and start a new life with his sisters in the prosperous desert city of Ziran. But when a vengeful spirit abducts Malik's younger sister, Nadia, as payment into the city, Malik strikes a fatal deal—kill Karina, Crown Princess of Ziran, for Nadia's freedom.
But Karina has deadly aspirations of her own. Her mother, the Sultana, has been assassinated; her court threatens mutiny; and Solstasia looms like a knife over her neck. Grief-stricken, Karina decides to resurrect her mother through ancient magic . . . requiring the beating heart of a king. And she knows just how to obtain one: by offering her hand in marriage to the victor of the Solstasia competition.
When Malik rigs his way into the contest, they are set on a course to destroy each other. But as attraction flares between them and ancient evils stir, will they be able to see their tasks to the death?
Felix Ever After
by Kacen Callender
Felix Love has never been in love—and, yes, he's painfully aware of the irony. He desperately wants to know what it's like and why it seems so easy for everyone but him to find someone. What's worse is that, even though he is proud of his identity, Felix also secretly fears that he's one marginalization too many—Black, queer, and transgender—to ever get his own happily-ever-after.
When an anonymous student begins sending him transphobic messages—after publicly posting Felix's deadname alongside images of him before he transitioned—Felix comes up with a plan for revenge. What he didn't count on: his catfish scenario landing him in a quasi–love triangle….
But as he navigates his complicated feelings, Felix begins a journey of questioning and self-discovery that helps redefine his most important relationship: how he feels about himself.
Felix Ever After is an honest and layered story about identity, falling in love, and recognizing the love you deserve.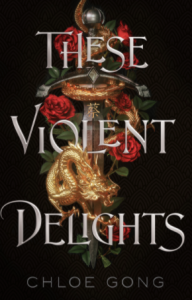 These Violent Delights
by Chloe Gong
A blood feud between two gangs runs the streets red, leaving the city helpless in the grip of chaos. At the heart of it all is eighteen-year-old Juliette Cai, a former flapper who has returned to assume her role as the proud heir of the Scarlet Gang—a network of criminals far above the law. Their only rivals in power are the White Flowers, who have fought the Scarlets for generations. And behind every move is their heir, Roma Montagov, Juliette's first love…and first betrayal.
But when gangsters on both sides show signs of instability culminating in clawing their own throats out, the people start to whisper. Of a contagion, a madness. Of a monster in the shadows. As the deaths stack up, Juliette and Roma must set their guns—and grudges—aside and work together, for if they can't stop this mayhem, then there will be no city left for either to rule.
Only Mostly Devastated
by Sophie Gonzales
Will Tavares is the dream summer fling―he's fun, affectionate, kind―but just when Ollie thinks he's found his Happily Ever After, summer vacation ends and Will stops texting Ollie back. Now Ollie is one prince short of his fairy tale ending, and to complicate the fairy tale further, a family emergency sees Ollie uprooted and enrolled at a new school across the country. Which he minds a little less when he realizes it's the same school Will goes to…except Ollie finds that the sweet, comfortably queer guy he knew from summer isn't the same one attending Collinswood High. This Will is a class clown, closeted―and, to be honest, a bit of a jerk.
Ollie has no intention of pining after a guy who clearly isn't ready for a relationship, especially since this new, bro-y jock version of Will seems to go from hot to cold every other week. But then Will starts "coincidentally" popping up in every area of Ollie's life, from music class to the lunch table, and Ollie finds his resolve weakening.
The last time he gave Will his heart, Will handed it back to him trampled and battered. Ollie would have to be an idiot to trust him with it again.
Right? Right.
The Henna Wars
by Abida Jaigirdar
When Nishat comes out to her parents, they say she can be anyone she wants—as long as she isn't herself. Because Muslim girls aren't lesbians. Nishat doesn't want to hide who she is, but she also doesn't want to lose her relationship with her family. And her life only gets harder once a childhood friend walks back into her life.
Flávia is beautiful and charismatic and Nishat falls for her instantly. But when a school competition invites students to create their own businesses, both Flávia and Nishat choose to do henna, even though Flávia is appropriating Nishat's culture. Amidst sabotage and school stress, their lives get more tangled—but Nishat can't quite get rid of her crush on Flávia, and realizes there might be more to her than she realized.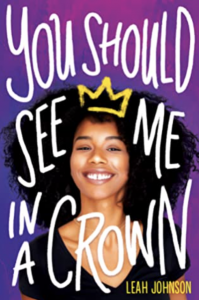 You Should See Me in a Crown
by Leah Johnson
Liz Lighty has always believed she's too black, too poor, too awkward to shine in her small, rich, prom-obsessed midwestern town. But it's okay — Liz has a plan that will get her out of Campbell, Indiana, forever: attend the uber-elite Pennington College, play in their world-famous orchestra, and become a doctor.
But when the financial aid she was counting on unexpectedly falls through, Liz's plans come crashing down . . . until she's reminded of her school's scholarship for prom king and queen. There's nothing Liz wants to do less than endure a gauntlet of social media trolls, catty competitors, and humiliating public events, but despite her devastating fear of the spotlight she's willing to do whatever it takes to get to Pennington.
The only thing that makes it halfway bearable is the new girl in school, Mack. She's smart, funny, and just as much of an outsider as Liz. But Mack is also in the running for queen. Will falling for the competition keep Liz from her dreams . . . or make them come true?
The Extraordinaries
by T.J. Klune
Nick Bell? Not extraordinary. But being the most popular fanfiction writer in the Extraordinaries fandom is a superpower, right?
After a chance encounter with Shadow Star, Nova City's mightiest hero (and Nick's biggest crush), Nick sets out to make himself extraordinary. And he'll do it with or without the reluctant help of Seth Gray, Nick's best friend (and maybe the love of his life).
The Kingdom of Back
by Marie Lu
Born with a gift for music, Nannerl Mozart has just one wish: to be remembered forever. But even as she delights audiences with her masterful playing, she has little hope she'll ever become the acclaimed composer she longs to be. She is a young woman in eighteenth-century Europe, and that means composing is forbidden to her. She will perform only until she reaches a marriageable age—her tyrannical father has made that much clear.
As Nannerl's hope grows dimmer with each passing year, the talents of her beloved younger brother, Wolfgang, only seem to shine brighter. His brilliance begins to eclipse her own, until one day a mysterious stranger from a magical land appears with an irresistible offer. He has the power to make her wish come true—but his help may cost her everything.
In her first work of historical fiction, #1 New York Times bestselling author Marie Lu spins a lush, lyrically told story of music, magic, and the unbreakable bond between a brother and sister.
Furia
by Saied Mendez
In Rosario, Argentina, Camila Hassan lives a double life. At home, she is a careful daughter, living within her mother's narrow expectations, in her rising-soccer-star brother's shadow, and under the abusive rule of her short-tempered father.
On the field, she is La Furia, a powerhouse of skill and talent. When her team qualifies for the South American tournament, Camila gets the chance to see just how far those talents can take her. In her wildest dreams, she'd get an athletic scholarship to a North American university.
But the path ahead isn't easy. Her parents don't know about her passion. They wouldn't allow a girl to play fútbol—and she needs their permission to go any farther. And the boy she once loved is back in town. Since he left, Diego has become an international star, playing in Italy for the renowned team Juventus. Camila doesn't have time to be distracted by her feelings for him. Things aren't the same as when he left: she has her own passions and ambitions now, and La Furia cannot be denied. As her life becomes more complicated, Camila is forced to face her secrets and make her way in a world with no place for the dreams and ambition of a girl like her.
The Gravity of Us
by Phil Stamper
As a successful social media journalist with half a million followers, seventeen-year-old Cal is used to sharing his life online. But when his pilot father is selected for a highly publicized NASA mission to Mars, Cal and his family relocate from Brooklyn to Houston and are thrust into a media circus.
Amidst the chaos, Cal meets sensitive and mysterious Leon, another "Astrokid," and finds himself falling head over heels—fast. As the frenzy around the mission grows, so does their connection. But when secrets about the program are uncovered, Cal must find a way to reveal the truth without hurting the people who have become most important to him.
Cemetery Boys
by Aiden Thomas
When his traditional Latinx family has problems accepting his true gender, Yadriel becomes determined to prove himself a real brujo. With the help of his cousin and best friend Maritza, he performs the ritual himself, and then sets out to find the ghost of his murdered cousin and set it free.
However, the ghost he summons is actually Julian Diaz, the school's resident bad boy, and Julian is not about to go quietly into death. He's determined to find out what happened and tie off some loose ends before he leaves. Left with no choice, Yadriel agrees to help Julian, so that they can both get what they want. But the longer Yadriel spends with Julian, the less he wants to let him leave.
Loveboat Taipei
by Abigail Hing Wen
When eighteen-year-old Ever Wong's parents send her from Ohio to Taiwan to study Mandarin for the summer, she finds herself thrust among the very over-achieving kids her parents have always wanted her to be, including Rick Woo, the Yale-bound prodigy profiled in the Chinese newspapers since they were nine—and her parents' yardstick for her never-measuring-up life.
Unbeknownst to her parents, however, the program is actually an infamous teen meet-market nicknamed Loveboat, where the kids are more into clubbing than calligraphy and drinking snake-blood sake than touring sacred shrines.
Free for the first time, Ever sets out to break all her parents' uber-strict rules—but how far can she go before she breaks her own heart?
Punching the Air
by Ibi Zoboi
Amal Shahid has always been an artist and a poet. But even in a diverse art school, he's seen as disruptive and unmotivated by a biased system. Then one fateful night, an altercation in a gentrifying neighborhood escalates into tragedy. "Boys just being boys" turns out to be true only when those boys are white.
Suddenly, at just sixteen years old, Amal's bright future is upended: he is convicted of a crime he didn't commit and sent to prison. Despair and rage almost sink him until he turns to the refuge of his words, his art. This never should have been his story. But can he change it?
With spellbinding lyricism, award-winning author Ibi Zoboi and prison reform activist Yusef Salaam tell a moving and deeply profound story about how one boy is able to maintain his humanity and fight for the truth, in a system designed to strip him of both.